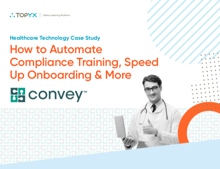 Healthcare technology company, Convey, had grown in size to over 2,000 employees and developed a dedicated training department.
By implementing a full-featured and customizable LMS, they were able to:
Automate compliance training;
Accelerate new employee onboarding; and
Build a strong company culture of learning.


Discover how a customizable eLearning platform can accelerate healthcare training for compliance, onboarding, and other applications.