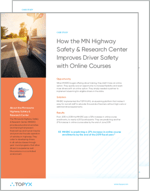 The Minnesota Highway Safety & Research Center (MHSRC) provides educational activities and training that prevent financial loss and human trauma and promote the safe operation of vehicles on highways.
Effectively Educating High Volumes At A Low Cost
Implementing TOPYX as their eLearning platform made it easy for MHSRC's small staff to educate thousands of learners without high costs or administrative limitations.
Read the MHSRC Case Study to discover how MHSRC leveraged TOPYX's eLearning Platform to generate a 30% increase in online course sales.